E-mailing Bookees & Attendees
E-mailing Bookees
Event Organiser Pro allows you to quickly and easily e-mail selected bookees from the admin screen. Simply select the relevant bookings, select 'Email Bookees' from the drop-down menu at the top and click apply.
You can easily email attendees to a certain event by filtering the admin table by event and/or booking status, before checking the 'select all' checkbox at the top of the column. This selects all bookings on that page, so you may wish to adjust the number of bookings on a page via the screen options.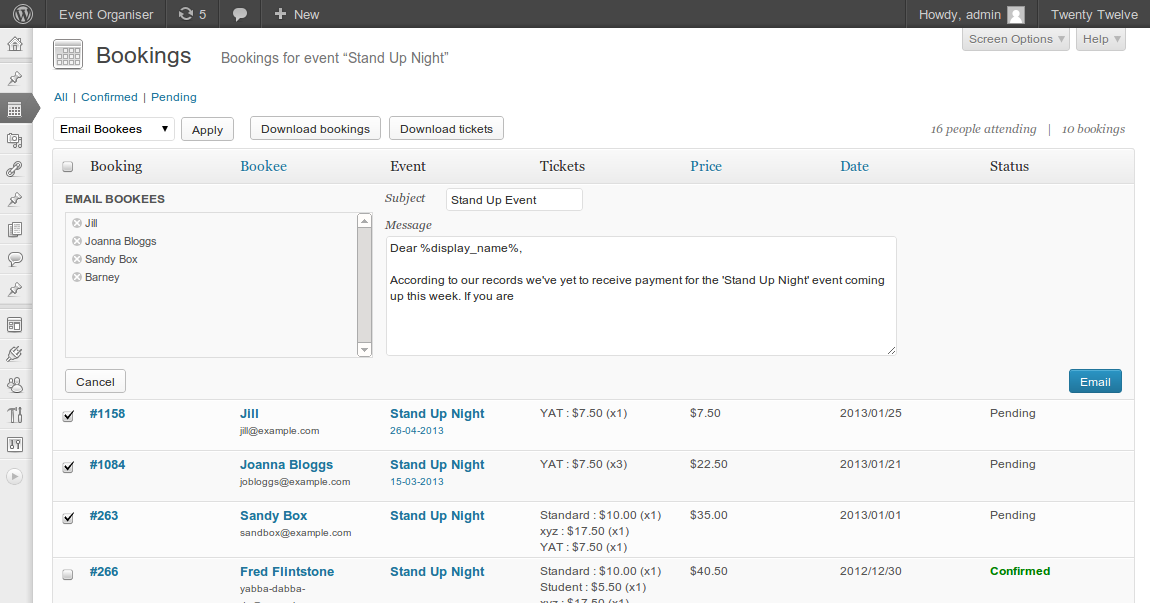 Email Placeholders
You can use the following tags to include information particular to each booking:
%display_name% (Display name of the bookee as set in their profile
%first_name% – The bookee's first name (if provided)
%last_name% – The bookee's last name (if provided)
%booking_reference% – The booking reference number
%event_date% – Date of the event they booked
%event_title% – Name of the event they booked
%tickets% – A table of tickets included in the booking
%booking_date% – The date the booking was made
%username% – The bookee's username
%booking_amount% – Total amount of the booking
%ticket_quantity% – Total number of tickets in the booking
E-mail Templates
The template option under the 'Bookings' tab in the plug-in settings page allows you to select, and preview, various templates to give your e-mails more visual appeal.
If the default templates are not to your taste, or you want a more integrated look the Event Organiser API allows the default templates to be extended.
Custom Templates
And its heart an e-mail template is simply a php file that lives in your theme (preferably child theme) with a particular comment header that allows Event Organiser to recognise it.
For the template to function correctly it must
Contain a comment at the top of the form 'Event Organiser Email Template: [Template Name]' (see the examples)
A call to the function eventorganiser_email_content() where you want the e-mail content to be displayed
The most basic of all templates would be:
<?php
/**
 * Event Organiser Email Template: My Template Name
 */
?>
<?php eventorganiser_email_content(); ?>
Which is very basic and boring. A more interesting example is:
<?php
/**
 * Event Organiser Email Template: Purple
 */
?>
<div style="background: #f0f0f0; padding: 8px 10px;">
    <div style="background: #9c21a4; width: 550px;  border: 1px solid #ccc; margin: 0 auto;border-radius:5px;">
        <div id="eo-email-header" style="height:50px;"></div>
        <div id="eo-email-content" style="background: #fff;padding: 8px 15px;">
            <?php eventorganiser_email_content(); ?>
        </div>
        <div  id="eo-email-footer" style="background: #9c21a4; height:50px;position:relative;">
            <div style="font-size:10px;vertical-align:text-bottom;width:100%;text-align:center;position:absolute;bottom:0;">
                <?php echo __( 'Powered by', 'eventorganiserp' ) .' <a href="https://wp-event-organiser.com">Event Organiser</a>'; ?>
            </div>
        </div>
    </div>
</div>
Tips:
You can include images in the template, but you must use an absolute path to a hosted (i.e. not local image).
Styling must be done in-line – e-mails do not support stylesheets
Excessive use of images will increase the size of the e-mail, and may make sending the e-mail slow.
What styling is supported in e-mails varies between e-mail clients – the best advice is to keep in basic.
Host Limiting Your Emails
A lot of hosts will limit the number of e-mails you can send from your site in a specified period of time (typically a daily or hourly limit). If you're expecting a large volume of bookings – or wish to e-mail a large number of bookees, you may hit this limit.
There are a couple of solutions:
Speak to your host. They may be able to offer a solution which involves raising, or removing this limit.
Install WP Mail SMTP to send the e-mails via an e-mail service provider (e.g. G-Mail). See set up instructions below.
WP Mail SMTP
WP Mail SMTP is a quick and free method to send e-mails via a third party e-mail service provider and so avoid your host's limits. And it works along-side Event Organiser without any problems. Here's how to set up the plug-in.
Once installed go to Settings > Email and select for WordPress to send all WordPress e-mails via SMTP.
Next setup the SMTP details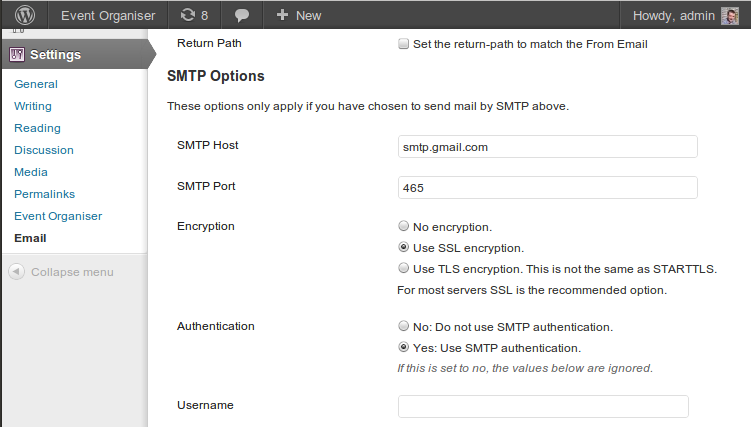 You should be able to obtain the necessary details from your e-mail service provider. For Gmail they are:
Host: smtp.gmail.com
Port: 465
Encryption: SSL
Authentication: Yes
Finally enter your username and password for the e-mail service you're using, and you're done.