'fullCalendar' Events Calendar Shortcode
The 'fullCalendar' shortcode displays an events calendar, similar to the 'admin calendar', and gives you a large degree of flexibility. Apart from the extensive options available (listed below), you can also customises the content of the event tooltips.
---
This page is for the 'full' Calendar, similar to the admin events calendar. If you're looking for details on the 'widget' calendar, see this page.
---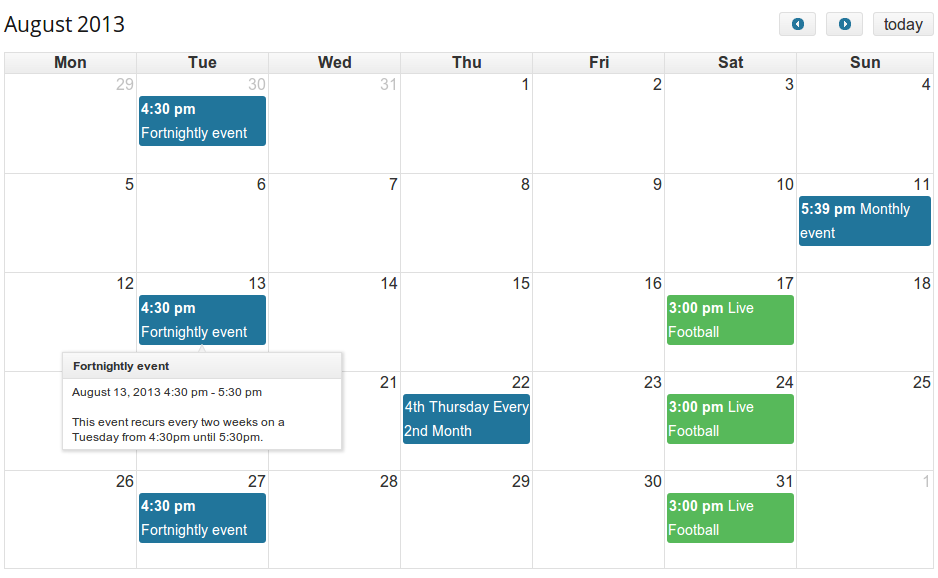 Displaying Your Events Calendar
 [eo_fullcalendar att1="val1" att2="val2"] 

The optional attributes ('att1′, 'att2′) allow you to customise the events calendar, for instance to add buttons or filters, customiser the date/time format or the 'view' of the calendar. See the section below for the supported attributes and their values.
Available Options
Below is a list of the options (called 'attributes') available to you when displaying your calendar. All are optional and you can display a calendar without specifying any of these attributes.
defaultView:
This selects the default view of the calendar when it is loaded. You can add buttons to allow the user to change the view in the 'header' attributes below. (Default: 'month'). One of

'month',
'agendaWeek',
'agendaDay',
'basicWeek',
'basicDay'
---
headerLeft, headerCenter, headerRight
These attributes determine what appears at the top of the calendar, on the left, centre and right, respectively: including, navigation buttons, buttons to switch the calendar view, or drop-down filters. Any collection of

'title' – displays the current month/week/day
the views ('month','agendaWeek','agendaDay','basicWeek','basicDay') – buttons to toggle bewtween the views,
'category' – adds a dropdown to filter by category
'venue' – adds a dropdown to filter by venue
'country' – adds a dropdown to filter by country (Pro only)
'state' – adds a dropdown to filter by state (Pro only)
'city' – adds a dropdown to filter by city (Pro only)
'today', 'next' and 'prev' – buttons to navigate the calendar Separate these by either commas or spaces (to place a gap in between the buttons). Use " to leave that part of the header empty. Defaults: headerLeft: 'title', headerCenter: '', headerRight: 'prev,next today'
---
These attributes allow you to restrict events on the calendar to specified categories, venues or events booked by the current user.
category – A comma delimetered list of category slugs to show on the calendar. Leave blank for all.
venue – A comma delimetered list of venue slugs to show on the calendar. Leave blank for all.
users_events – ('true' or 'false'). If true display only events for which the current user is attending
---
These attributes allow you to alter the appearance of the calendar:
tooltip: – Whether to display a tooltip. True/false. Defaults to true. Content is filtered by eventorganiser_event_tooltip
weekends (default: true) – whether to include weekends in the calendar
mintime (default: ") – Determines the first hour/time that will be displayed, even when the scrollbars have been scrolled all the way up.
maxtime (default: 24) – Determines the last hour/time that will be displayed, even when the scrollbars have been scrolled all the way down.
alldayslot (default: true) – Determines if the "all-day" slot is displayed at the top of the calendar
alldaytext (default: __('All Day','eventorganiser')) – Sets the text for the all day alot
---
These attributes allow you to change the date and title formating of the calendar:
timeformat: The format in which the time appears on the events. Specify in php format. Default: H:i
axisformat (default: ga ) – time format displayed on the vertical axis of the agenda views
titleformatmonth (string) Date format (PHP) for title for month view. Default 'l, M j, Y'
titleformatweek (string) Date format (PHP) for title for week view. Default 'M j[ Y]{ '—'[ M] j Y}'. See range formats.
titleformatday (string) Date format (PHP) for title for day view. Default 'F Y'
columnformatmonth (default: D) – Determines format of the date in the column headers in month view
columnformatweek (default: D n/j) – Determines format of the date in the column headers in month view
columnformatday (default: l n/j) – Determines format of the date in the column headers in day view
---
Examples
To display a calendar with the following options:
Title in the centre
Previous/Next navigation buttons, and a 'today' button next to them, but with a gap between
Buttons to switch the Calendar view between month and agendaWeek
use the shortcode as follows:
[eo_fullcalendar headerLeft='prev,next today' headerCenter='title' headerRight='month,agendaWeek']